Crazy Fan Tattoos Blue Ivy's Name On His Neck (Photos)
Apparently, 4 years old Beyonce and Jay Z's daughter, Blue Ivy already has the biggest fan, an Instagram User @est215_ decided to get a tattoo to celebrate Blue Ivy's birthday on January 7, 2016. He posted the picture with the caption; "01•07•12 #BlueIvy
#Tattoo #Ink #Unique #OneOfAKind #HappyBirthday #Blue #Carter #Beyonce #JayZ #PhotoOfTheDay #AnyQuestions #BeyHive #TheCarters #WelcomeToMyWorld"
This guy is facing huge criticism for getting this huge tattoo of Blue Ivy's name and her date of birth on his neck. After making headlines, he defended his action and wrote on instagram; "All because of the love I have for Beyoncé, of course I love Blue Ivy!!
I don't have to explain nothing to NOBODY.
Anyone that PERSONALLY know me know where my heart is for Beyoncé. And that's all that matter.
"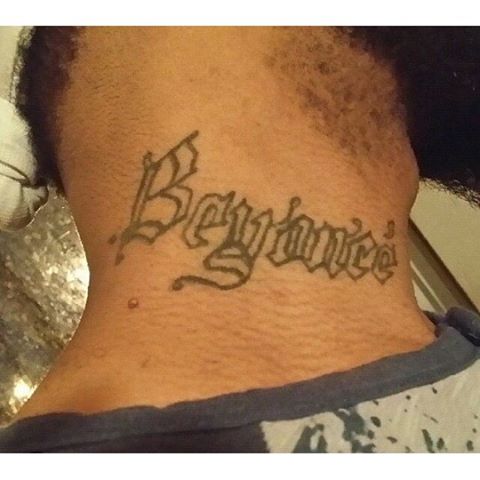 Its Obvious he's Queen Bee and Princess Blue's biggest fan, He also has Beyonce's name tattooed on his neck