President Buhari rewards 1985 Golden Eaglets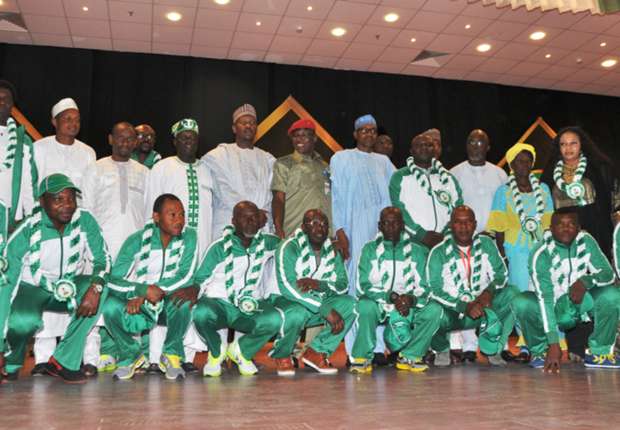 The country's no. 1 citizen has rewarded the 1985 Golden Eaglets team and athletes who have done the country proud
President Muhammadu Buhari has given each member of the 1985 Nigeria U17 team the sum of two million naira with Emmanuel Amuneke's boys receiving a sum of 1.2 million for their triumph in Chile.
The team handled by coach Sebastien Brodericks won the inaugural edition of the Fifa U17 World Cup staged in China.
The leader also honoured sportsmen and women who recorded success in various sports during his seven-month old administration.
Players and handler of the 2015 Caf U23 Championship got N500,000 each while N300,000 went to the assistant coaches and other officials.
N1.2 million went to players of the 2015 Fifa U17 World Cup winning Golden Eaglets in Chile, while head coach Emmanuel Amuneke got N900,000 and N600, 000 went to the assistant coaches while 300,000 each went to the team secretary and medical teams and other backroom staff got 200,000 each.
While lamenting the 2012 London Olympics' poor outing, he pledged his government supports the upcoming Rio Olympic and urged the athletes to continue doing the nation proud in their various sports.
"It gladdens my heart to play host to our athletes who have made the nation proud at various international competitions," said President Buhari.
"Nigerian athletes have defiled challenges and always demonstrated that the Nigerian spirit is indomitable.
"On behalf of all Nigerians, I wish to express my appreciation to our athletes and officials for their consistency, determination, willpower and commitment for success witnessed in recent times.
"I urge the managers of this sector [Sports] to keep up with the momentum. I wish to assure the federal government will not relent in its efforts to ensure our sports men and women continue to excel in international competitions.
"I'm particularly concerned about our participation at the forthcoming Rio 2016 Olympics Games. Our sour experience at the London 2012 Olympics Where Nigerian athletes failed to make it to the podium.
"This administration wants a change in the way we do things. We must strive to the in the way we manage our time, financial and physical resources to ensure we success in the next Olympics. We must aim for optimal performance in all international competitions.
"I wish to remark that this day event is special to me because God granted me the privilege to fulfill my promise in 1985 to all the winners of the maiden edition of the Fifa U17 World Championship.
"The reasons for the 30 years delay is well known. It is sad to note that a member of the team [Awa Ubare] is not here today.
"In line with our belief that the labour of our heroes past should never be in vain, we want to say thank to our 1985 Golden Eaglets for the success.
"As we are all aware that the financial of our nation since we took over last, it is a token appreciation for your effort and appreciation while competing for Nigeria," he said