Chelsea and Manchester United share Spoils!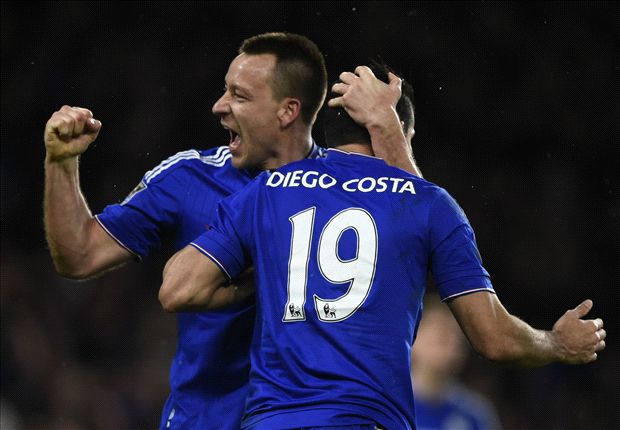 The Blues have gone from kings to kingmakers and celebrated holding Louis van Gaal's side at Stamford Bridge like a win, exemplifying just how far they've fallen
John Terry
's
Chelsea
career will always be defined by a 1-1 draw with
Manchester United
. Not this one, however. Memories of Moscow in 2008 are slow to fade.
If another draw lives long in Chelsea's minds, it will be for two reasons: the horrible injury Kurt Zouma seemed to suffer and the sense of schadenfreude that they dented United's title push. That is all Chelsea can do now: damage others. They used to be the kings. Now they are the kingmakers. They have frustrated first Arsenal and now United. The biggest victories of their league season are the points they have taken off others. Manchester City, Tottenham and Leicester, who will all visit Stamford Bridge before the end of the campaign, should beware.
Yet it has come to something when Chelsea are pleased to draw at home, the place where Jose Mourinho went 77 league games unbeaten. Standards have slipped over the eight years since these teams met in a Champions League final. Principally, however, they have dropped in the last eight months when Chelsea have gone from first to 13th.
Now, in a season of sorry statistics, the one positive fact Chelsea can cling to is the reality they are on the longest undefeated run in the Premier League at the moment. Yet the more telling piece of information may be that, for the first time in 28 years, they have four consecutive draws at Stamford Bridge. It is a distinctly mixed blessing. Guus Hiddink has a drawing habit, which is an upgrade on the litany of losses at the end of Mourinho's reign, but as Terry put it bluntly, they need to start winning. All a draw did them was take them a further point clear of Bournemouth.
Yet rather than giving the impression they were determined to win, Chelsea seemed intent on not being beaten. Ambitions have been downgraded. Hiddink is seen as the more adventurous of the senior citizens of Dutch management, Van Gaal the more controlling and defensive. This was a role reversal. Manchester United were purposeful and positive. Chelsea looked inhibited as long as the game remained goalless.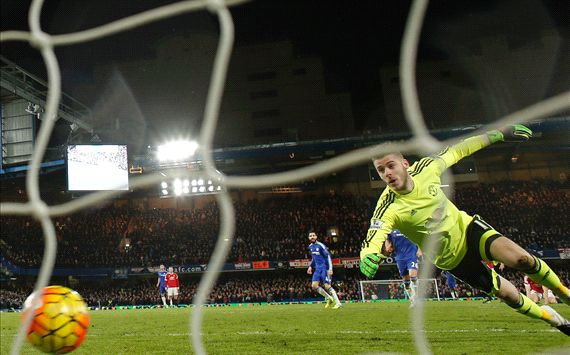 But he picked a pragmatic team, without much fantasy. A starting XI with only two flair players, in Oscar and Cesc Fabregas, played functional football. Eden Hazard was held in reserve for 54 minutes. Even when the benched Footballer of the Year was introduced, it was at Oscar's expense. It is the obvious response with a struggling side, to shore up shop, and Chelsea lost nine of their last 15 league games under Mourinho.
While Roman Abramovich's dream manager, Pep Guardiola, will bring the promise of beautiful football to Manchester City, his interim appointment has presided over a team with two goals in three league games. Both have come from Diego Costa, whose belated first appearance against United had a happy ending with his equaliser.
Hiddink has been on a damage-limitation exercise. The Russian owner may imagine an identity shift next season when he likely has yet another manager. Presumably his ideal side does not include both Nemanja Matic and John Obi Mikel. Solidity is a starting point, but style will be a requirement in the future.
And Terry, seemingly, will not be part of it. The 35-year-old's post-match interview, confirming there has been no further communication with the club, suggested Chelsea are still set on putting the 'end' into Captain, Leader, Legend.
In the short term, however, events are contriving to make Terry seem still more important. As Zouma was stretchered off with what looked a potentially serious knee injury, the old firm of Terry and Gary Cahill were reunited. Any plans of easing the departing captain out of the team may have to be put on hold. The more immediate worry for Hiddink, as he plots a path to retirement lined with silverware, is his team can beat Manchester City in the FA Cup and Paris Saint-Germain in the Champions League without the big Frenchman.
Terry's farewell tour could be a busy affair but, barring a draw in the FA Cup, he has played his final game against United. One stands out, courtesy of the sliced spot-kick that spawned T-shirts and banners, mimicking safety warnings and reading: "Caution! John Terry."
Now there is another sort of hazard at Stamford Bridge, and not just the substitute Eden. Chelsea showed their doggedness as they fought to extend their unbeaten run. They took conspicuous pleasure in taking a point from a team who are aiming to replace them as champions. Three more are due in west London. Yet again, Chelsea could have a say in the title race.