''Nigeria won't make mistakes against Zambia'' - Rohr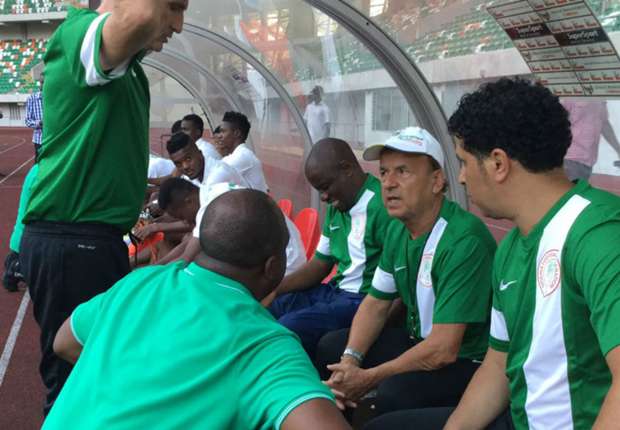 The tactician says his side will do everything to avoid errors in their 2018 World Cup qualifier clash against the Chipolopolo on Sunday
Nigeria coach Gernot Rohr says his side will put up an impressive and clinical display in Sunday's Fifa 2018 World Cup qualifier against Zambia in Ndola.
The 63-year-old also disclosed that he has an injury-free squad for Saturday trip and have good knowledge of the Chipolopolo ahead of the encounter.
"I have no injury in the team. Though initially, two players came to camp with injuries but they are now fit thanks to the team's medic," said Rohr.
"For our opponents, we have the videos of their five last games and know what happened, but they have changed their coach now. It can be a little bit different now I think we know the same players very well.
"We know they are strong in the attack and have good players who are becoming a bit older with big experience and less quick. But I think the game will be an important game against a good team.
"We have a good team and they want to win because they have missed two Afcon tournaments. Their motivation is like our own."
"But our motivation can be the bigger because we want to win the game. It is an important game. Sometimes you forget to defend well.
"So we must be careful trying to win away and must be able to defend well. So, we must not make mistake."
On coping with the bad pitch in Ndola, he assured that his side are made up of professionals and will have no excuse failing to play well on the poor turf.
"We saw their game against Kenya which was their last game. They could not play so well because the pitch was not good," he continued.
"We must be able to play on the bad pitch. We have the best players and professionals. They know it in Africa that the pitch is not a new experience. But we must be careful with our control of the ball. We must play quickly too.
"I think our team is able, you've seen it in Uyo. We played well though the pitch was not too good.
"We want to play not changing the style of play, long ball or kick and run but we must play well even when it is a bad pitch," he concluded.