BRUNO MARS COVERS ROLLING STONE; TALKS UPTOWN FUNK, BEYONCE AND MORE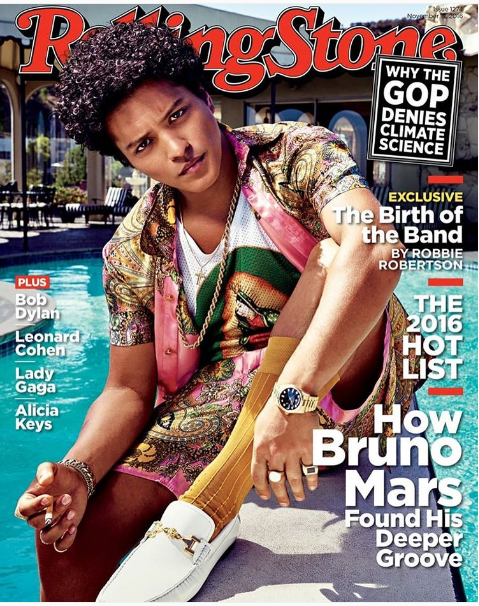 As Bruno Mars gears up to release his new album 24K Magic on Nov. 18, he is making his press rounds. Yesterday, he spoke with Apple Music's Zane Lowe about how movie-making inspired his latest LP. Today, he featured the cover of Rolling Stone for the second time.
Lounging poolside in silk and gold, Bruno delves deep into his life and music in the revealing interview. He opens up about his mother's death and his relationship with model Jessica Caban. He talks about Beyoncé eating Cheetos and Kanye West dissing him.
But fans might be most excited about early glimpses into 24K. New songs like "Versace on the Floor" and "Finesse" are mentioned in the article. Though it's unclear if they'll make the final tracklisting, Mars clearly cared about each one as he was making last-minute tweaks. "Anytime you see us, on tour, on TV, I want to be moving," he said, as he worked on "Finesse." "I was very conscious on this album of the bounce."
He's obsessive about those particulars. It even comes up when he's working on a track with Skrillex. "[Skrillex] is a sonic genius, and his version [of a song on 24K Magic] is amazing," he explained in the middle stages of the cut. "There's just something that's still not happening for me. The groove ain't right, or we're not doing something on the chorus — I don't know the exact math. I'm just trying to figure out why I'm tuning out in certain parts."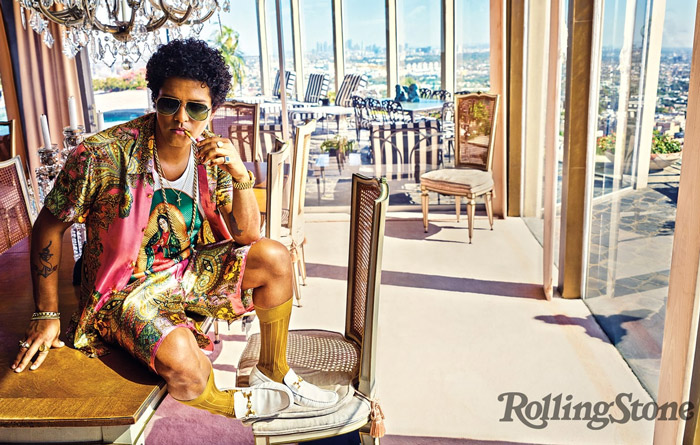 ON THE SUPER BOWL: "God bless the Super Bowl. They hooked me up, they took a chance on me. But I had to keep reminding them why they took a chance on me. You put that camera on my band and me, and I got you…They wanted to show a shot of the audience wearing these light-up bracelets. I told them, 'If you take that camera off me, you're doing yourself a disservice.' And what happened? They spent all this money on these things, and it didn't work."
ON BEYONCÉ'S CHEETOS: "Me and Beyoncé were both working on our diets, stressing out. Then the day before, we're watching playback backstage, and she's eating a bag of Cheetos. I'm like, 'That's what you're doing?' She's like, 'There's nothing more we can do these last two days. It's gonna be what it's gonna be. So I'm gonna enjoy this bag of Cheetos.'"
ON KANYE WEST DISSING HIM: "It's Kanye — bottom line, at the end of the day, we need Kanye. But what he said wasn't a sting. You can come at me all you want — I've set myself up for that. But I am my own biggest critic. Whatever anyone says to me, they don't know shit. But me and him, we're cool. He called me and apologized. Kanye loves me, man. You know that. Who doesn't? I'm Bruno Mars!"
ON "UPTOWN FUNK": "Coming off the biggest song of my career, it was super-daunting to come in here. I don't know if people are going to love this shit. I don't know if radio is going to play it. But what I don't want to have happen is I put it out and say, 'Damn it, if I'd just done this and this, maybe it would have had a shot.'"
ON HIS UPBRINGING: "This is something I never thought about until recently. But because of my upbringing performing for tourists, I had to entertain everyone. Not just black people, not just white people, not just Asian people, not just Latin people. I had to perform for anybody that came to Hawaii."
ON HIS MOTHER'S DEATH: "To this day, I don't know how to handle it,. That piece of your heart is just gone forever. I don't even know how to talk about it with you. It's a nightmare. It's literally a nightmare."
ON WHETHER HE'LL MARRY HIS GIRLFRIEND: "Jesus! She's my best friend. My rock. What's wrong with that? We're just happy…Until she reads this."