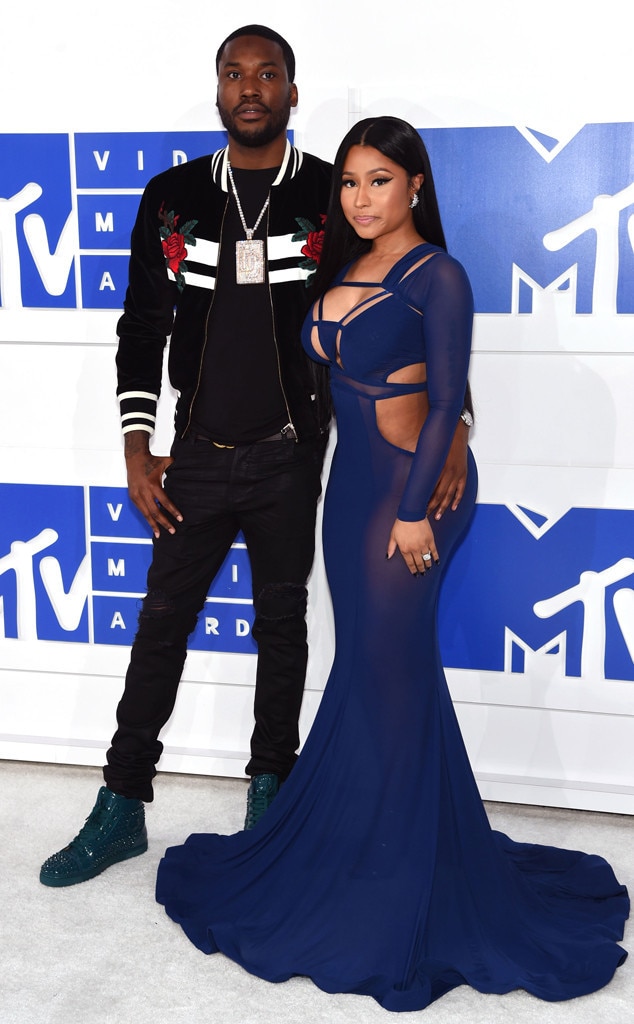 The 30-year-old "Whatever You Need" rapper appeared on Philadelphia's Power 99 radio station earlier this week to promote his new album, the aptly titled
Wins & Losses
. Twenty minutes into the interview, host
Cosmic Kev
decided to ask about Minaj. "Let's get it," Meek said. "Don't even take a deep breath if you're asking a question; it's easy to answer nowadays."
Looking back at his two-year relationship with the 34-year-old music superstar, Meek said, "It was a win. I got Nicki when I was…like, I came up. I always wanted Nicki my whole life. I used to talk Nicki Minaj—remember I had the rap about it? I bagged that. So, that was a win of course."
Nicki
announced their breakup
in January, tweeting, "To confirm, yes I am single. Focusing on my work and looking forward to sharing it with you guys really soon. Have a blessed New Year."
So, it's no surprise that Meek considers his January split a significant loss. "Of course, breaking up with anyone you love is a loss. Period. Game time. Ya heard? You want me to get up here and make up a lie or something, Kev? It's so easy to tell the truth now. But nobody can believe that interview is going so smooth, because it's just so easy to tell the truth and kick that talk, because we living it. And this is what we're representing. A lot of people, it became a little trend to try to hate Meek Mill; I don't know what they was thinking. It comes with being a threat; it comes with being a threat," he explained. "I watch it time and time and over with good playas."
"Is a DJ still allowed to play Nicki records and Drake records?" the host asked a later in the interview. Meek replied, "Yeah. They play it every time we're in the club. We listen to the radio, too, man. We gotta vibe sometimes to everybody's music…I did that. I was dropping Nicki's s--t in the club. I ain't mad at her...If your song is fire, there's no way we're skipping past it. Period."
When Kev asked if there is "anything" Meek would change, the rapper replied, "I wake up feeling very comfortable with everything that took place in life because it made me who I am."
At another point in the interview, Meek explained why he's not as prolific on social media as he one was. "It's becoming a super circus now, you know what I mean? You wanna be the elephant that stands on two feet? You wanna be the lion that jumps through the fire hose? Or do you wanna be the clown? It's a circus. When you go to the circus, ain't no tellin' what you're gonna see," he said. "...I try to not join the circus as much, you know what I'm saying? It's a market where we touch our fans and we connect with people, but anybody allowed to connect with you. You can post a picture of your grandmom and your grandmamma ugly. You can post a picture of Biggie: 'Biggie shouldn't have died.' Like, yo, I don't really wanna...This stuff is kinda getting out of hand, you know what I'm saying? Post this. Post my music. Post some fly pictures that inspire—because the young people where I come from, we get inspired by young hustlers...and we get inspired when we see someone that came from where we came from."